I just watched the keynote address from Microsoft's MIX08 web conference.
The whole thing (2 hours, 28 minutes) was interesting, but I was really fascinated by the Hard Rock demo (the cafe, casino, hotel people).? They've built an application using Microsoft's Silverlight that lets you browse the memorabilia that's at their locations all over the world.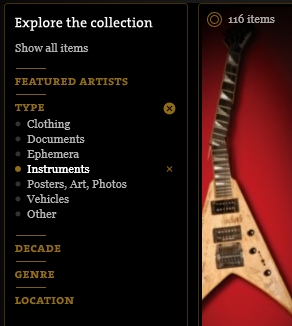 You can browse by artist, memorabilia type, decade, genre, or location.? You can zoom in to where you see the scratch marks on a guitar (using the mouse scroll wheel or click / control-click).? You can read information about each piece (or hide the info panel).? You can also drag the pictures around to see different detail or move to other items.
You can watch just the Hard Rock demo part of the keynote here.
Check out the collection by browsing to www.hardrock.com and clicking on "Memorabilia".
Silverlight is currently available for various browsers on Windows and Intel Macs.? It will eventually be available for Linux also.
I also really liked the demo that NBC did regarding how they're going to use Silverlight to make the summer Olympics available online this summer.? Watch it here.