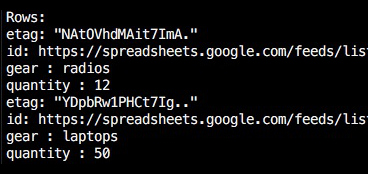 The Google Spreadsheets API allows you to send simple queries to retrieve subsets of the rows in your sheet - it's as easy as appending the query to the end of the URL.
For example, if I have a column called "Quantity" and want rows with Quantity greater than 9, I would append ?sq=quantity>9 to the end of the URL and issue the GET request (don't forget that column names are always converted to lowercase and spaces are removed).
The other method is to add the sq query parameter to the Guzzle $httpClient.  I've illustrated this in my example code.
See this page for more info.